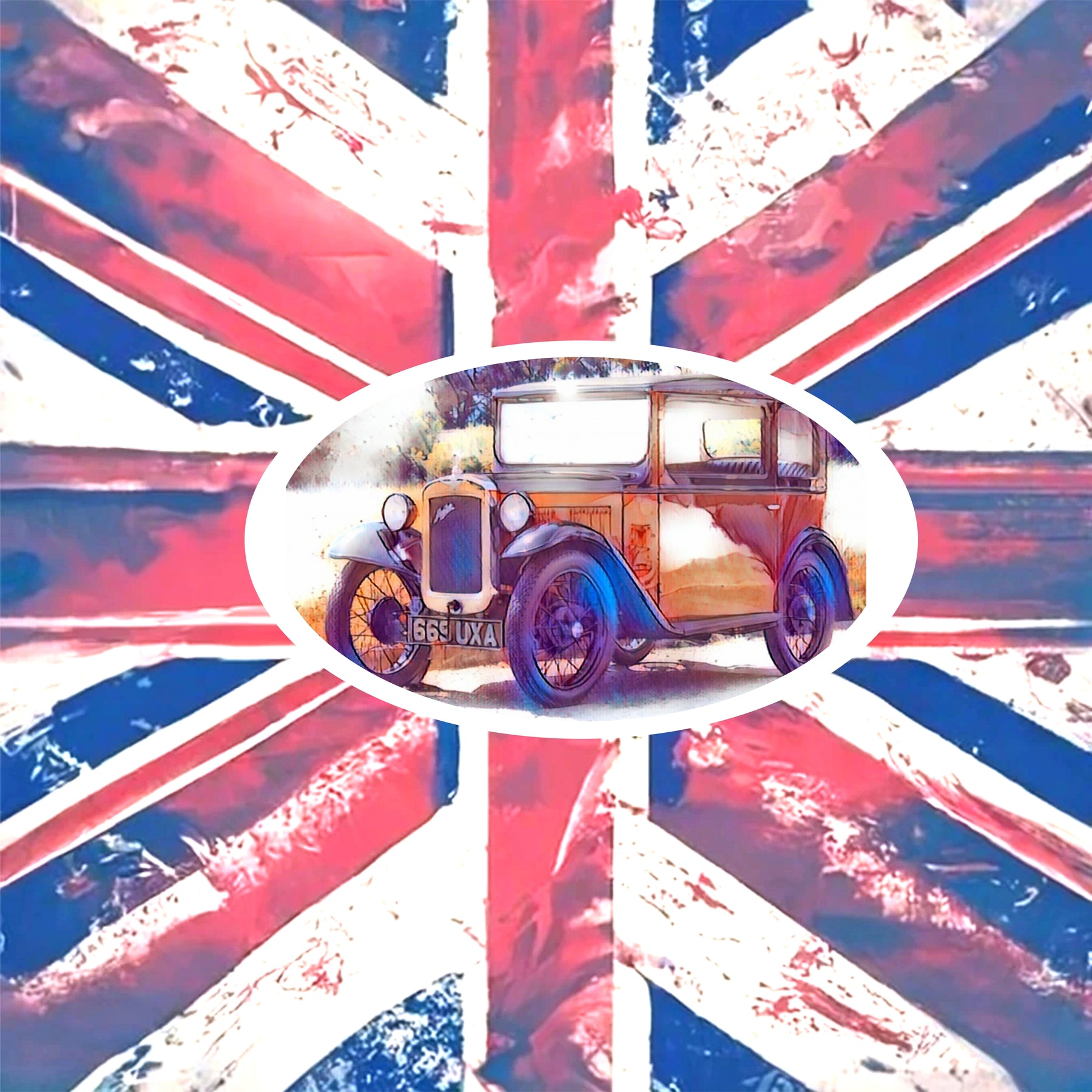 Herbert Austin, Austin 7, Austin Powers and GCE's 1977
The name Austin means a lot to me, Herbert Austin (later Sir Herbert Austin) founded the Austin Motor Company in 1905, not a fictional character, but a prominent character in the British automotive industry. Born in 1866, he began his career in the engineering industry, working for the Wolseley Tool and Motor Car Company before founding his own company
Back in 1977 as a 16 year old I sat  in the assembly hall of Bishop Gore School with my pen in hand. I was dreading the prospect of the next few hours as Geography was not one of my strongest subjects and the thought of sitting a GCE exam was not something I was looking forward to. "No talking" we were told as the papers were handed out by Mr Walters. I scanned through the questions and to my great surprise one read as follows 'The location of the British car industry….., 20 marks', I was expecting something on Ox Bow lakes  !
This was an absolute dream for me and of course I chose to answer it and I am convinced that's why I passed. 
I think as we live longer, it would be useful for us to resit these past exams and get them marked to see if life has improved our knowledge and understanding. Not all would volunteer to do this, I think we would all require a little motivation like determining our state pension payout!
Imagine receiving this letter as you near your state pension age.
What the future may hold!
Would the government be in favour of this, Rishi (or Keir) if you are reading this blog could I have your thoughts on how you feel this could work, timescales for introduction etc.....
It was the Oxford Diecast K2 release that had awakened my memories of Austin. I started looking back through my notes as I had felt the need to write a small piece on the K2. Whilst doing this I realised that the Austin 7 went into production in 1923, 100 years ago. This was such a significant contribution to the automotive industry and as we all know was nicknamed the "Baby Austin." Announced in 1922, it was a small, economical car that became immensely popular in Britain and abroad. It was affordable, reliable, and had excellent handling characteristics. The Austin Seven played a pivotal role in making car ownership more accessible to the general public.
Despite the success it bought to the Austin Motor Company, financial difficulties arose in the 1930s, and the company faced challenges. In 1952, the Austin Motor Company merged with the Nuffield Organization (Morris) to form the British Motor Corporation (BMC), later renamed British Leyland. The legacy of the Austin brand continued under BMC and British Leyland for several decades.
Before moving on to the K2 I thought I'd create a 30 second video about the CAD creation of the Oxford Austin 7 - mainly to keep me out of mischief and to kill a few hours. I appreciate our version was the later RN saloon, but it's as close as we can get.
Now we can move on.
Austin K2
The Austin K2 ambulance was a military ambulance used by the British Army during World War II and in the post-war period. It was based on the Austin K2 truck chassis, which was also used for other purposes such as general transport, artillery tractors, and recovery vehicles.
Designed to transport wounded soldiers from the battlefield to medical facilities. It featured a specially designed body that could accommodate stretchers and medical personnel. The rear section of the vehicle had large doors and windows for easy access and visibility. Manufactured in Longbridge, it also produced a range of military vehicles during World War II, including trucks, ambulances, and staff cars.
After the war, the Austin K2 ambulance continued to be used by various military and civilian organizations. It was also exported to other countries and used in different parts of the world. However, as automotive technology advanced and newer ambulance designs emerged, the Austin K2 gradually became obsolete and was eventually phased out of service.
76K2001 Design Cell
Oxford Diecast 1:76 Scale 76K2001 View on Website
One of my favourite articles on the Austin K2 appeared on the Austin Memories website, sadly the creator 
John Baker passed away in early 2021, his words read as follows:
Possibly the best known Army vehicle is the Khaki coloured Austin 2-ton Field Ambulance with its large and distinctive Red Cross markings, and a story told by a Polish driver of this Austin which has the distinction of having been engaged "on both sides", and has been recaptured in France.

Retreating into Dunkirk in 1940, it had to be regretfully abandoned, and its driver did his best to immobilize it in the few minutes available in that great scramble. Ignition and other electrical equipment was smashed or otherwise destroyed, and then the driver joined the queue for the cross-Channel trip.

The Nazis, however, considered the ambulance valuable booty and immediately towed it away to their workshop to join their "forced labour".

It emerged still an Austin, but with Bosch electrical equipment, and other "frills" to suit the Nazi idea as to what should constitute an Army ambulance. An additional front seat had been fitted, the body had been completely metal panelled and doors added to the cab, the whole repainted in the German army colours. A new first-Aid cabinet and cupboard had been built-in, brackets fitted to carry new petrol "jerricans," and special rear lamps developed by the Germans for safe night convoy work. German number plates and a trident unit sign were also added.

In its new guise it continued its errands of mercy throughout France and Germany, till it was eventually posted to the Russian Front. There it withstood all the rigours of the Russian winter and sustained many battle scars, and with the re-opening of the Allied Western Front on D day it again, ran across Germany to France.

In a battle at Commeux on August 20'h, the British recaptured the ambulance, but this time its driver decided it was preferable to stay put and he and his vehicle were taken prisoner.

Shrapnel and bullet holes in the body are obvious souvenirs of the service it has seen on the various battle fronts, and one hole right through the driver's door suggests, at best, a narrow escape for somebody during his war effort.

Field-Marshal Montgomery was impressed by its history and performance and in recognition of such "services rendered" he recommended that the ambulance be returned to its manufacturers at Longbridge. After all the years of perilous service it was found to have a reasonable performance, although in need of an engine overhaul and brake re-lining. This veteran now bears the inscription:- "Austin V.2 Ambulance as recaptured from the Nazis at Commeux, France, on'August 20th, 1944. Presented to the Austin Motor Co. by the Commander-in-Chief, 21st Army Group."
Back in the early 1900's it was Herbert Austin innovating that created the foundations of the British Car Industry, sadly very little of this exists today.  I asked my grandson what the name 'Austin' meant to him, "Austin Powers" he replied! (10 years old and he has heard of Austin Powers.....).
I checked on the internet 
A fictional character, an iconic figure in the film industry. Portrayed by actor Mike Myers, a British secret agent known for his humorous and exaggerated spy adventures in the "Austin Powers" film series, including "Austin Powers: International Man of Mystery,".
I started to explain the history of Herbert Austin to my grandson, he was looking very bored.....
So I said "Shall we create some Street Art" and a smile came to his face. Of course it would have to be automotive, which got me thinking that we have just re-released the E Type Jaguar 76ETYP005 and I could use that to keep him awake, whilst I explained to him that he was not allowed to watch the movie Austin Powers.
So this is my latest street art (at least it was created on my laptop - so my ownership!)
Having finished this, Eloise arrived with the first shots off the Dennis Eagle Refuse Truck tooling, so more rubbish to come in my next blog !!!
There is an offer code hidden within the blog which gives 10% off Oxford untiil the 31st July 2023 - look carefully and you will find it.
It can be used at checkout on the Oxford website !!!
I do look at all comments, but I am unable to answer, so don't feel I am ignoring you when I do not reposnd.
Until next time