SEARCH FASTER
Filter Products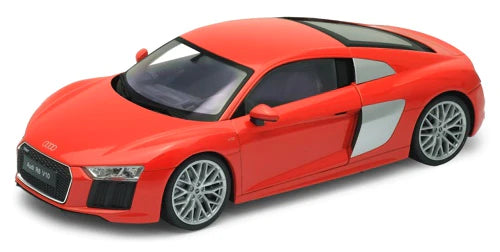 Audi Model Cars
If you're looking for the perfect gift for that special someone who loves an Audi, check out our Audi Model Cars. We have a great range of different Audi Model Cars, whether you like to browse by era or by theme, we have something for everyone.
We all know that the four rings on the modern Audi badge came from the four companies (Horch, Audi, Wanderer and DKW) which comprised the prewar Auto Union. Two of those firms were founded by the automotive pioneer August Horch. 'Audi' was a latinised form of his name, after he had to leave the original Horch firm. The driving force behind the grouping together in 1926 of the four Saxon companies as the Auto Union was a Dane, Jergen Skafte Rasmussen, with a bit of pressure from his bankers. Wanderer had previously employed Austrian engineer Ferdinand Porsche to design their cars, so when he conceived a new and revolutionary rear-engined racing car in the 1930s it was built by Auto Union, with the support of the Nazi regime. After the Second World War the Auto Union factories found themselves in the Russian zone. Some production continued there, but the marque names remained in West Germany, where Auto Union was revived in Dusseldorf. DKW cars returned to production after the war, and the Audi name was revived. Under the control of Volkswagen, then of Mercedes-Benz, and finally of Volkswagen again, the Audi brand gained in popularity until it reached a pre-eminent position in the 21st century. NSU was combined with Audi by VW, and its Neckarsulm plant built Audis in the 21st century.
Oxford Diecast produces many of these brands in its scale model vehicle range. Feel free to browse our Audi Model Cars below.
Read More
Read Less
Liquid error (snippets/quick-shop line 3): include usage is not allowed in this context