SEARCH FASTER
Filter Products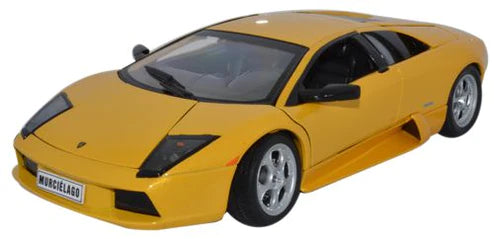 Lamborghini Model Cars
If you're looking for Lamborghini Model Cars, we have the perfect collection for you. On our website, you can browse our model vehicles looking up particular themes or a particular era. This menu system is great for finding the next vehicle for your collection. Once you have enjoyed browsing our Lamborghini Model Cars selection, enjoy looking around the rest of our site.
In 1948 Lamborghini began making tractors, the range developing through the L33, the DL30/DL40, the DL25C (the first crawler) and the DL30C. In 1958 the Lamborghinetta was launched, and 1962 saw the first 4x4 tractors. In the same year Ferruccio Lamborghini decided to build a luxury car to compete with Ferrari; the Lamborghini 350GT, with a Bizzarrini-designed V12 engine. It was followed by the 400GT in 1964, and the Bertone-bodied (Gandini-styled) Miura in 1965. The sensational gull-wing door Marzal appeared in 1967, also a Bertone-Gandini creation. 1968 saw the launch of the Miura Roadster, Islero GT and the Espada. In 1970 the Jarama and the lower-priced Urraco were launched. The Jota was a race version of the Miura. The incredible LP500 Countach was next, called the LP400 in production. Lamborghini developed and refined their car range in the 1970s, to reflect difficult times in the oil crisis, and the Lamborghini tractor firm joined the SAME Group in 1973. In 1976 the Silhouette appeared, and the 4x4 Cheetah began development. In 1980 Bertone produced the open Athon concept car, but the firm was in trouble and collapsed into bankruptcy. It was rescued from liquidation and restructured in 1981 as Nuova Automobili Ferruccio Lamborghini SpA. Some of the old models were revived, and the first new model was the Jalpa. The off-road vehicle became the V12-powered LM004 prototype, which became the LM002 in production. In 1985 the Countach Quattrovalvole was launched, and in 1987 the firm was acquired by Chrysler. In 1988 Lamborghini made a V12 engine for the Larrousse F1 team. In 1990 the Diablo replaced the Countach, and in 1994 Chrysler sold the firm to a group of Indonesian investors. In 1998 Audi began a collaboration with Lamborghini, which quickly led to a takeover. Under Audi control the Murcilago was launched in 2001, followed in 2003 by the Gallardo, and in 2005 by the Gallardo Spyder. In 2014 the Huracan LP 610-4 was launched at the Geneva Motor Show.
We stock some of these Lamborghini diecast vehicles below, should you wish to purchase a Murcielago Model Car or a Miura Model Car. We also have a Huracan Model Car in red!
Read More
Read Less
Liquid error (snippets/quick-shop line 3): include usage is not allowed in this context