SEARCH FASTER
Filter Products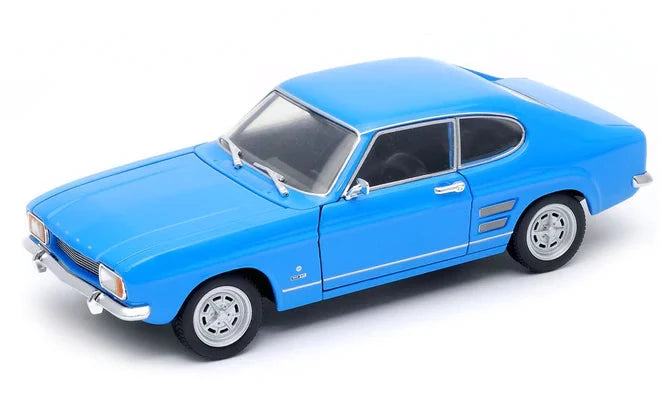 Ford Model Cars
If you're looking for the perfect gift for that special someone who loves Ford cars, check out our Ford Model Cars. We have a vast range of different Ford Model Cars, whether you like to browse by era or by theme, we have something for everyone. 
In 1911 UK assembly of the Ford Model T, began in a factory at Trafford Park, Manchester, previously used for tram construction. This was the first overseas Ford assembly plant, set up under the Henry Ford and Son (Fordson) title. Henry and Edsel had formed a separate company under this name as part of an ultimately successful effort to oust other shareholders in the Ford Motor Co. Initial assembly was of US chassis kits, delivered via the Manchester Ship Canal adjacent to the factory, with locally-made bodies fitted. By 1913 a new moving assembly line speeded up production, Ford prices dropped and 6,000 Model Ts were sold, giving Ford a 30% share of the UK market. For the 1917 season Ford modernised the appearance of the Model TrnThe inland location of the Trafford Park plant was not regarded as suitable for expansion, so in 1923 a new site was purchased next to a deep-water port on the River Thames, at Dagenham. In 1931 the Model A and AA entered production, but it sold poorly. A new small car was needed for the 1930s, the 933cc Model Y Ford Eight, launched in 1932. Eights continued in production as Anglias, up to the 1950s Popular. The Model C Ford Ten was the De luxe big brother to the Model Y, leading to the Prefect. Ford added large V8 cars in the 1930s presaging the postwar Pilot.
The first new postwar Fords in 1950 were the Consul and Zephyr, plus the deluxe Zodiac. These grew into Marks I to IV, replaced by the Granada in 1972. In the 1950s the Eights and Tens were replaced by the 100E Anglia and Prefect, in turn replaced by the 105E Anglia, 109E Consul Classic and Corsair. The 1960s saw the Cortina, Capri, GT40, and commercials including the ET6, Trader, K-Series, D-series, R-series, H-series, Cargo and Transit. From the 1970s Ford UK produced the Escort Marks I to VI, the Orion, Granada-Consul-Scorpio, Fiesta-Puma-Fusion, Sierra-Sapphire, Probe, Cougar, Mondeo, Focus, Ka, StreetKa, Galaxy, Explorer, Maverick, Kuga, C-Max, B-Max, S-Max, New Transit, Tourneo, Transit Connect, Transit Custom, Ranger, and many more models.
Oxford Diecast produces many of the these brands in its scale model vehicle range. Feel free to browse our Ford Model Cars below.
Read More
Read Less
Liquid error (snippets/quick-shop line 3): include usage is not allowed in this context