SEARCH FASTER
Filter Products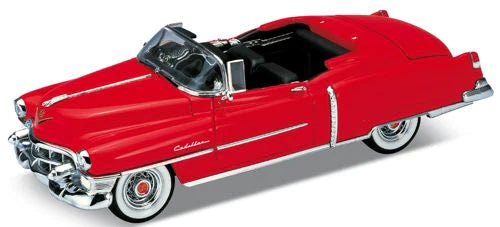 Cadillac Model Cars
If you're looking for the perfect gift for that special someone who loves a Cadillac, check out our Cadillac Model Cars. We have a great range of different Cadillac Model Cars, whether you like to browse by era or by theme, we have something for everyone.
Cadillac Motor is a division of the American car manufacturer General Motors (GM). The company designs and builds luxury vehicles. The cars are popular in the United States, Canada, and also China. Cadillac models are also distributed in 34 additional markets worldwide. Cadillac cars are one of the most luxurious vehicles in America. Cadillac is named after Antoine de la Mothe Cadillac (1658–1730), who founded Detroit, Michigan. The Cadillac logo, the crest, is based on his coat of arms.
 Cadillac was originally formed by the remnants of the Henry Ford Company. Following a dispute between Henry Ford and his investors Ford left the company in March 1902. Ford brought with him several of his key partners and formed the Cadillac Automobile Company. This company was established on the 22nd August 1902. It was named after French explorer Antoine Laumet de La Mothe, sieur de Cadillac, who had founded Detroit in 1701.
Current Cadillac Models On The Car Market:
1999 Escalade
1999 Escalade
2003 Escalade ESV
2016 CT6
2016 CT6
2019 CT6-V
2017 XT5
2019 XT4
2020 CT4
2020 CT4
2020 CT4-V
2020 CT5
2020 CT5
2020 CT5-V
2020 XT6
2023 Lyriq
Oxford Diecast produces many of these brands in its scale model vehicle range. Feel free to browse our Cadillac Model Cars below.
Read More
Read Less
Liquid error (snippets/quick-shop line 3): include usage is not allowed in this context