SEARCH FASTER
Filter Products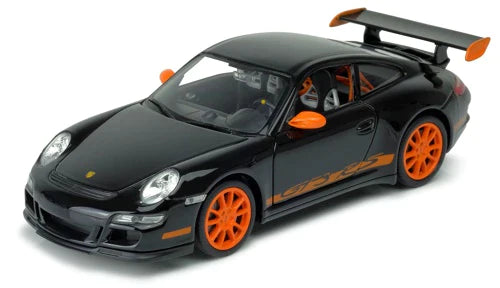 Porsche Model Cars
If you're looking for the perfect gift for that special someone who loves a Porsche, check out our Porsche Model Cars. We have a great range of different Porsche Model Cars, whether you like to browse by era or by theme, we have something for everyone.
Experience the exhilaration of owning a piece of automotive history with our selection of Porsche Model Cars. Whether you're an avid collector, a car enthusiast, or appreciate the finesse and prestige of the Porsche brand, these detailed Miniature Porsche replicas are the perfect way to bring that passion into your home.

Every Porsche Diecast in our collection perfectly encapsulates the spirit of its life-size counterpart. Meticulously crafted and beautifully detailed, they showcase the intricate design and innovative engineering that Porsche is famous for. Dive into our world of Porsche Model Cars and start your journey with these miniature marvels today.


The Prestige of Porsche in Miniature Form 
The allure of Porsche model cars goes beyond their striking looks. They are a tangible embodiment of the celebrated heritage and engineering prowess that has defined Porsche for decades. Diecast Porsche cars serve as a bridge, connecting passionate enthusiasts with the illustrious world of this iconic brand.

From their inception, these Miniature Porsches have captured the hearts of collectors and car enthusiasts, offering them an opportunity to hold a piece of automotive history. Whether it's the sleek silhouette of the Porsche 911 or the groundbreaking design of the Porsche 356, each model encapsulates the brand's commitment to excellence and innovation.

With our extensive range of Porsche model cars, you can explore the rich legacy of this legendary marque. Each Diecast Porsche in our collection is more than just a model; it's a tribute to the brand's enduring spirit and a symbol of its timeless appeal. Start your collection today and immerse yourself in the captivating world of Miniature Porsches.
Dive into Our Diverse Porsche Collection
Immerse yourself in the exciting world of Porsche model cars with our extensive collection, encompassing both classic and contemporary vehicles that have shaped the identity of this legendary brand. 
Each of our Porsche diecast models is a finely crafted piece, replicating the unique style and engineering finesse that Porsche is known for.

Discover the thrill of the iconic Porsche 911 model car, celebrated for its distinctive design and renowned performance. This model perfectly encapsulates the spirit of the original, making it an indispensable piece in any Porsche model car collection.
Revisit the roots of Porsche with the Porsche 356 model car, the first production automobile that truly put Porsche on the map. This miniature classic breathes life into automotive history with its precision detailing and authentic design.
Or, explore the cutting-edge innovation and design of the modern Porsche Carrera model car, a symbol of the brand's commitment to pushing the boundaries of what's possible.
Whether you're an ardent Porsche fan or a diecast enthusiast, our collection offers a Porsche model car for every interest and taste. Begin or expand your Porsche model car collection today and celebrate the captivating blend of history, innovation, and design that is uniquely Porsche.
Precision and Authenticity: Our Porsche Models
When replicating Porsche's precision engineering and sophisticated design, our Porsche diecast models stand second to none. Each model is crafted with meticulous attention to detail, capturing the subtle nuances that set Porsche cars apart in the automotive world.
From the unmistakable sleek lines of the bodywork to the intricately replicated interiors, our authentic Porsche model cars mirror the real thing in miniature form. We understand that for the diehard Porsche enthusiast, every detail counts. That's why we ensure that each model in our collection adheres to the highest standards of accuracy and quality, reflecting the brand's true spirit.
Whether it's the distinctive rear wing of a Porsche 911 or the elegant simplicity of a Porsche 356, our models capture these features with a level of authenticity that is truly remarkable. This authenticity extends beyond the aesthetics, with each model echoing the weight and feel of its full-sized counterpart.
Investing in our Porsche diecast models means owning a piece of Porsche's rich automotive history, presented with an unwavering commitment to precision and authenticity. Experience the unmatched quality of our Porsche model cars and dive deeper into the legacy of this prestigious brand.
Perfect Gift for Porsche Lovers
Porsche model cars are more than collectables; they represent an enduring passion for one of the world's most prestigious automotive brands. These miniature masterpieces make the perfect gift for Porsche fans and car enthusiasts, embodying the essence of the Porsche brand in a form that can be admired and appreciated daily.
Whether for a birthday, anniversary or just because a Porsche model car is a gift that speaks volumes. It tells the recipient you understand and appreciate their love for these iconic vehicles. Each model car is a piece of Porsche's rich automotive history, symbolising the brand's relentless pursuit of excellence and innovation.
For Porsche enthusiasts, each model car celebrates the brand's many achievements. From the classic elegance of the Porsche 356 to the raw power and performance of the Porsche 911, our collection captures the evolution of the Porsche brand in exceptional detail.
Moreover, these model cars are not just gifts but experiences. The moment of unwrapping a Porsche model car, feeling its weight, admiring the precise detailing, and placing it in a collection, is an experience that elicits the same thrill and excitement as owning a full-sized Porsche.
So, whether you're buying for a seasoned collector or someone just beginning their journey into the world of Porsche, a Porsche model car from our collection is the perfect gift. It's not just a model car; it's a piece of automotive history, a conversation starter, and a testament to a genuine love for Porsche. Explore our selection of Porsche model cars and find the perfect Porsche gift for the enthusiast in your life.
Customer Reviews and Testimonials: Hear From Our Happy Collectors
When purchasing Porsche model cars, there's no better reassurance than hearing directly from those who've experienced the thrill of adding these miniature marvels to their collection. We are proud to share a selection of our customer reviews and testimonials that underline our Porsche diecast models' quality, authenticity, and appeal.
Jane from Leeds shares her experience, "I recently purchased a Porsche 911 model car for my husband's birthday. He was thrilled! The quality of the model and the meticulous detailing took him back to our trip to Stuttgart, where he first fell in love with Porsche. He's already planning on adding a Porsche 356 model to his collection next!"
Meanwhile, an avid Porsche enthusiast, Thomas from Manchester, says, "The Porsche Carrera model car I purchased from you is superb. The attention to detail and accuracy is impressive. It takes pride of place in my collection and often becomes a conversation starter with my guests."
From seasoned Porsche model car collectors to first-time buyers, our customer reviews paint a picture of satisfaction and delight. These reviews affirm our commitment to quality and authenticity and inspire us to continually expand our Porsche model car collection to cater to our clientele's diverse tastes and preferences.

Want to experience the thrill of owning a Porsche diecast model yourself? Please browse our selection and join our satisfied Porsche model car collectors community. Share your passion for Porsche with the world, and inspire someone else to start their own collection!
Frequently Asked Questions: Get the Answers to Your Porsche Model Car Queries


What Porsche model cars do you offer?

 We offer an extensive range of Porsche diecast models, including classics like the Porsche 356 and Porsche 911 and models of modern favourites like the Porsche Carrera. Browse our collection to find the perfect miniature Porsche for you or a loved one.

How accurate are your Porsche model cars to the real thing?

 Our Porsche model cars are known for their precision and authenticity. We strive to replicate every detail from the original Porsche vehicles, from the interior design to the exterior finish, ensuring you get a miniature Porsche that embodies the iconic brand's spirit.

Do your Porsche model cars come with any warranty or return policy?

 Yes, we stand by the quality of our Porsche diecast models and offer a product warranty. We have a flexible return policy if you are not completely satisfied with your purchase. Please check our Terms and Conditions for more information.

What scale are your Porsche model cars?

 Our Porsche model cars are mainly in the popular 1:43 and 1:18 scales. Each product description includes the scale, so you can choose according to your preference and display space.

Can I gift a Porsche model car?

 Absolutely! A Porsche model car makes for a perfect gift for Porsche fans and car enthusiasts. It's a thoughtful way to celebrate their passion for this iconic brand. We also provide an option for gift packaging at checkout.

How do I care for my Porsche model car?

 To maintain the pristine condition of your Porsche diecast model, keep it out of direct sunlight and dust regularly. When needed, clean with a soft, dry cloth. Avoid using any harsh cleaners or chemicals.

Can I request a specific Porsche model car not listed on your site?

 We're always looking to expand our Porsche model car collection. If there's a particular model you're interested in that isn't currently in our catalogue, feel free to contact us. We'll do our best to assist you.
Take the Wheel: Shop Our Porsche Model Cars Now
The world of miniature Porsches is just a click away! Immerse yourself in our diverse collection of Porsche model cars, a haven for all diecast enthusiasts and Porsche lovers. Each model, be it a classic Porsche 911 or a sleek Porsche Carrera, has been meticulously designed to mirror the finesse and prestige of the original vehicles.
Don't just admire. Own a piece of automotive history today. Please navigate through our user-friendly site, explore the various models, and let the stunning photographs guide you in making the perfect choice. 
Whether you're a collector, looking for a unique gift, or simply a Porsche enthusiast, the perfect Porsche diecast model awaits you.
So why wait? Shop our Porsche models now and let these exquisite miniatures bring joy and a touch of class to your home or office. Your journey into the thrilling world of Porsche starts here. 
Buy Porsche diecast models today and transform your collection into an automotive treasure trove.
Read More
Read Less
Liquid error (snippets/quick-shop line 3): include usage is not allowed in this context