SEARCH FASTER
Filter Products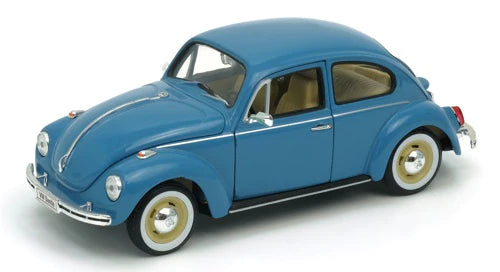 Volkswagen Model Cars
If you're looking for the perfect gift for that special someone who loves VW cars, check out our Volkswagen Model Cars. We have a vast range of different Volkswagen Model Cars, whether you like to browse by era or by theme, we have something for everyone. 
In 1937 the Nazi trades union organisation, Deutsche Arbeitsfront set up a firm to make a 'people's car' called the the KdF-Wagen (Kraft durch Freude - strength through joy car). It had an air-cooled rear engine, torsion bar suspension, and an aerodynamic beetle form. In 1938 the firm was renamed Volkswagenwerk GmbH with a factory and factory town in Wolfsburg. The factory employed slave labour in wartime, and produced military vehicles, including VW versions. After the war the heavily bombed factory was to be dismantled, but British Army Major Ivan Hirst got the Beetle back into production to fulfil an order for 20,000 cars for the British Army. The business was offered to motor industries worldwide, but all of them turned it down, so it reverted to German control. By 1955 total production of Beetles (Type 1) exceeded a million, and the Microbus (Type 2) was made on the same platform, followed by other air-cooled cars. In 1964 VW acquired Audi, then took over NSU in 1969. In the 1970s new front-engined water cooled cars were launched, including the Golf, Passat and Polo. In the 1980s and 1990s VW Group took over a number of other firms; Seat, Skoda, Bentley, Bugatti and Lamborghini. VW-owned commercial vehicle firms include MAN and Scania. In 2005-2008 Porsche attempted to take over the much larger VW and almost bankrupted itself. 

Ultimately VW took over Porsche in 2102, and Audi acquired Ducati. This left VW Group as one of the largest industrial concerns in the world, with plants in 31 countries, selling to 153 countries. 590,000 VW workers produced over 40,000 vehicles daily. This upward curve faltered in 2015 when sales dropped as a result of some VW cars being equipped to cheat emissions tests.
Read More
Read Less
Liquid error (snippets/quick-shop line 3): include usage is not allowed in this context