SEARCH FASTER
Filter Products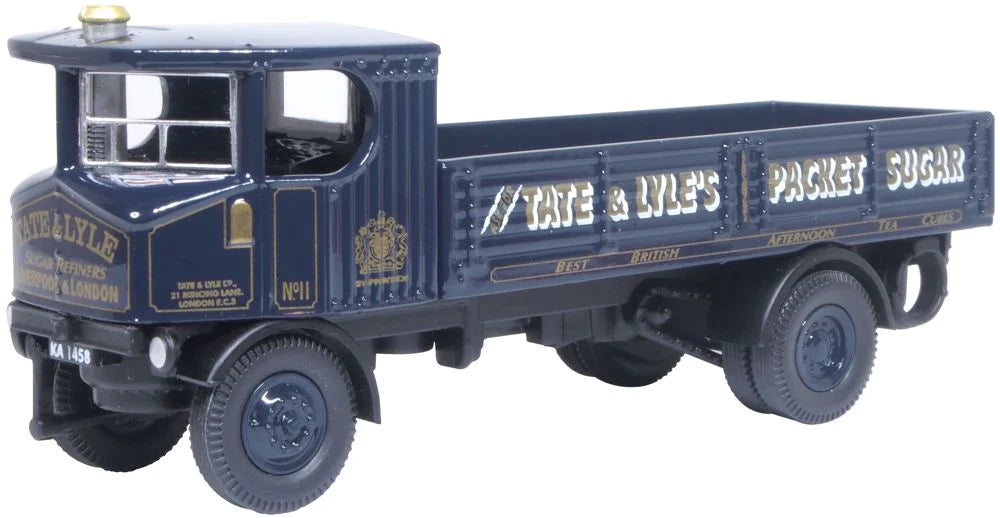 1:76 Scale Model Cars, Vehicles and Trains
Immerse yourself in the fascinating realm of 1:76 scale models, also known as the 00 scale. This scale, favoured for its detailed precision, is 76 times smaller than its real-life counterparts. While it originated in the UK and was primarily used for model railway layouts, it has since gained global popularity and found its application in creating diecast vehicles.
Discover the Intricate World of 1:76 Scale Model Cars, Vehicles, and Trains

Oxford Diecast is proudly pioneering in developing this scale for diecast models. We were the first to recognize the immense potential of the 1:76 scale, dedicating ourselves to producing high-quality, detailed models that faithfully mirror their life-sized inspirations.

Our journey in the world of 1:76 scale models began in 2007. Since then, we've embarked on one of the most intensive product release programs ever seen in the industry, consistently unveiling new and exciting models each month. Our commitment to the 1:76 scale led us to launch Oxford Rail in 2015, further enriching our portfolio with Locomotives, Coaches, and Rail Wagons.

Our founder, Taff, carries a rich heritage of working at Mettoy, the Swansea factory known for manufacturing the iconic Corgi models in the 1970s. This legacy manifests in our commitment to quality, detail, and authenticity, making us the world's largest manufacturer of 1:76 scale models.

Our collection isn't just for seasoned collectors; it's also perfect for those seeking unique and thoughtful gifts. With our models' affordable pricing, everyone can experience the joy of owning a piece of meticulously crafted miniature history. Dive into the detailed universe of 1:76 scale models with Oxford Diecast today.
Understanding 1:76 Scale Models
When we talk about 1:76 scale models, we're referring to miniature replicas that are 76 times smaller than their real-world counterparts. This scale, also known as the 00 scale, is a popular choice in model railway layouts and diecast vehicles due to its precise level of detail and convenient size.

The 1:76 scale originated in the UK and has been widely adopted by hobbyists and manufacturers worldwide. Each model is a meticulous, downsized version of a vehicle or train, where 1 unit of measurement on the model equates to 76 of the same units on the full-sized version. For example, if an actual train car is 76 feet long, a 1:76 scale model of that train car would be 1 foot long.

This particular scale provides a perfect balance between size and detail. It's large enough to include intricate design features and accurate representations yet small enough to be conveniently displayed or used in model railway layouts.

1:76 scale models open a window into a miniature world of transportation, reflecting the grandeur and charm of various vehicles and trains. They are the products of skilled craftsmanship and attention to detail, allowing collectors and hobbyists to explore, appreciate, and own a piece of this captivating world. At Oxford Diecast, our range of 1:76 scale models captures the essence of many iconic vehicles and trains, from historical classics to modern marvels, providing something for every enthusiast to cherish.
Buying with Oxford Diecast: Your Trusted Partner for High-Quality Scale Models
When you purchase your 1:76 scale models from Oxford Diecast, you're partnering with a brand known for its commitment to quality, attention to detail, and historical accuracy. As the world's largest manufacturer of models at this scale, our name has become synonymous with excellence and authenticity in the model collectors' community.
Unmatched Quality
Our 1:76 scale models are products of expert craftsmanship and rigorous quality control. Each model is meticulously designed and crafted to faithfully mirror its real-world counterpart. From the shape and proportions to the tiniest details, we strive to create miniatures as realistic as they are beautiful.
Wide Range of Models
We pride ourselves on offering an extensive range of models. Whether you're interested in vintage cars, modern vehicles, or classic trains, you will find a model that catches your eye. We continually update our collection with new and exciting models, ensuring there's always something new for our customers to explore.
Trusted Legacy
Our founder, Taff, has a rich heritage in the model manufacturing industry, having worked at Mettoy, the factory famous for producing Corgi models. This legacy is carried on at Oxford Diecast, where we are driven by a passion for authenticity and a commitment to building top-tier models.
Outstanding Customer Service
At Oxford Diecast, we believe in making your buying experience as enjoyable and smooth as possible. Our dedicated customer service team is always ready to assist with any questions or concerns, ensuring your satisfaction with every purchase.
When you buy with Oxford Diecast, you're not just acquiring a model; you're becoming a part of a community of enthusiasts who value quality, authenticity, and craftsmanship. Explore our collection today and start your journey into the captivating world of 1:76 scale models.
Featured Product: 1:76 Scale Model of the Bomb Disposal Broadbridge Heath Bedford RL by Oxford Diecast
Experience the thrill of owning a piece of history with our featured product - the meticulously detailed 1:76 scale model of the Bomb Disposal Broadbridge Heath Bedford RL.
A Glimpse into History
The Bedford RL, produced in the 1950s and 1960s, was a multipurpose military vehicle used extensively by the British Armed Forces and other international military units. Our model represents the Bedford RL as it was used by the Bomb Disposal Broadbridge Heath team, offering a fascinating glimpse into military history.
Unmatched Authenticity and Detail
Crafted at a 1:76 scale, this model retains the distinct features and rugged charm of the original Bedford RL. From the military green exterior to the bomb disposal equipment, every detail is painstakingly recreated to offer an authentic miniature replica. The model also features the unique markings and logo of the Bomb Disposal Broadbridge Heath team, further enhancing its historical accuracy.
Quality Craftsmanship
Like all Oxford Diecast models, our Bedford RL model is the product of top-tier craftsmanship and rigorous quality checks. It's designed to be a collector's item and a piece that can withstand the test of time, ensuring you can enjoy its intricate beauty for years to come.
A Unique Addition to Your Collection
This model isn't just a piece of history; it's also a unique addition to any model collection. Whether you're a military enthusiast, a model collector, or someone who appreciates the artistry of scale models, the 1:76 scale model of the Bomb Disposal Broadbridge Heath Bedford RL is a must-have.
The Joys and Benefits of Collecting Model Cars, Trains, and More
Engaging in the model car and train collecting world isn't just a hobby—it's a rewarding journey filled with discovery, appreciation, and personal fulfilment. There are numerous benefits to starting and maintaining a collection of model cars, trains, and other vehicles.
Historical Appreciation
Collecting models can lead to a profound appreciation for history. Many scale models accurately represent vehicles that have played significant roles throughout eras. They can serve as tangible reminders of the past, allowing collectors to learn about and connect with different automotive and railway history periods.
Attention to Detail
Collecting and examining detailed models can cultivate an eye for detail. Collectors often learn to notice and appreciate the delicate, intricate elements that go into the design and production of vehicles and trains, enhancing their overall aesthetic appreciation.
Community Engagement
Model collecting often comes with a vibrant community of fellow enthusiasts. Joining clubs, attending events, and engaging in discussions online allows collectors to connect with others who share their interests. These interactions provide opportunities for learning, camaraderie, and even friendly competition.
Therapeutic Benefits
Collecting can also have therapeutic benefits. Searching for a particular model, organizing a collection, or simply spending time admiring the models can provide a sense of relaxation and satisfaction. It's a hobby that can be pursued at one's own pace, offering an escape from everyday stresses.
Investment Potential
While most people collect for the joy it brings, model collecting can also be seen as an investment. Some models, particularly rare or vintage ones, may increase in value over time. Collectors could reap financial rewards in addition to the inherent pleasure of the hobby.
Whether you're drawn to the historical significance, the community, the detail-oriented nature, or the potential investment, collecting model cars, trains, and other vehicles offers a rewarding experience that enriches many aspects of life. So why wait? Start your journey with Oxford Diecast today and explore the world of model collecting.
Frequently Asked Questions about Model Collecting
What is the best scale for model cars and trains?
The "best" scale often depends on personal preferences and the purpose of your collection. However, the 1:76 scale (also known as the 00 scale) is particularly popular because it balances size and detail, making it ideal for display and use in model railway layouts.
How do I care for my model cars and trains?
Proper care for your model vehicles ensures their longevity. Please keep them in a dry, cool place away from direct sunlight to prevent colour fading. Dust them regularly with a soft brush or cloth. For more intricate cleaning, use a cotton swab. Always handle your models with clean hands to prevent tarnishing the paint.
How do I start a model vehicle collection?
Starting a model collection can be as simple as purchasing your first model. Please choose a model that appeals to you due to its design, historical significance, or personal nostalgia. Over time, you might decide to specialise in a specific type of vehicle, era, or scale, or you might enjoy collecting a variety.
Can model cars and trains be considered an investment?
While many people collect models for personal enjoyment, they can also be seen as investments. Limited edition models, rare finds, and vintage pieces can appreciate value over time. However, predicting which models will increase in value can be challenging, so focusing primarily on the joy of collecting is best.
Where can I connect with other model collectors?
There are many online forums, social media groups, and local clubs where model collectors connect. Attending model shows and conventions is another great way to meet fellow enthusiasts. Oxford Diecast also offers a vibrant community for collectors to share their experiences and insights.
Explore the World of Model Collecting with Oxford Diecast
Whether you're a seasoned collector or a beginner starting your journey, we invite you to delve into our extensive range of 1:76 scale models. Uncover the intricate beauty of our diecast vehicles, ranging from vintage classics to modern marvels, each boasting remarkable attention to detail and high-quality craftsmanship.
Feel the thrill of discovering new additions to your collection or the perfect gift for a fellow enthusiast. Dive into our captivating catalogue of model cars, trains, and more, each piece carrying its own slice of history, waiting to be explored and appreciated.
At Oxford Diecast, we're more than a shop – a community. Join us in celebrating the artistry, history, and joy of model collecting. Don't wait another moment - Embrace the fun of collecting with Oxford Diecast.
Read More
Read Less
Liquid error (snippets/quick-shop line 3): include usage is not allowed in this context