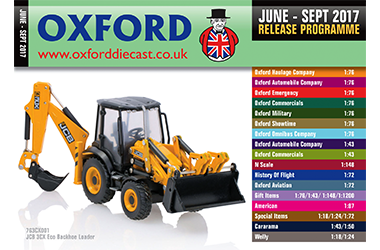 Oxford Diecast Release 2 2017 Content
Here is an update to our release programme Q2/2017 (June-September 2017). The catalogue will be released around mid June 2017
1:18 Scale
The 1:18 Heinkel is not too far away and here's the latest image of 18HE001 in Roman Blue, along with the 18MBC005 in Polar White.
148 N Scale
Many will be aware that we were are late on a whole group of products in the N Scale range. It will be quiet over the next 4/6 weeks, but then they will all progressively become available over the next 3/4 months.
Here are some updates of already announced N Scale vehicles.





There is a perfect storm brewing for N scale enthusiasts, not just due to the arrival of those late items, but because we didn't stop the development of further products. There are new further items being announced today, you will see a further 5 ½ items – the tanker being an addition to the haulage range, which I call a ½ model. We also have the Burlingham Seagull which technically makes it 6 ½ as I forgot to mention this in the past releases. The new items are all fully tooled – I didn't want to announce these until the previous items were imminent so no hold ups with these.
1:148 Oxford Automobile

NHI001

Hillman Imp Willow Green

NXF001

Jaguar XF Carnelian Red

1:148 Oxford Commercials

NFDE001

Ford 400E Van British Rail

NFT022

Ford Transit Mk5 Network Rail Response Unit

NPB008

Commer PB Royal Mail

NTRAC004

Fordson Tractor Matt Grey

NTRAIL006

Mobile Trailer Buns on Wheels

1:148 Oxford Fire

NSFE007

Scania Pump Ladder Surrey F & R

1:148 Oxford Haulage

NMB006

Mercedes Actros Curtainside Sparks

NSHL03TK

Scania Highline Tanker Eddie Stobart

NTCAB005

Scania T Cab Tipper Tinnelly

NVOL4003

Volvo FH4 Curtainside Knowles

1:148 Oxford Military

NBSA008

Motorbike & Sidecar RAF Blue

NCHT001

Churchill Tank Kingforce

NLAN188020

Land Rover Series I 88" Canvas REME

NLRL001

Land Rover Lightweight United Nations

1:148 Oxford Omnibus

NNR005

New Routemaster Propercorn

NSEA001

Burlingham Seagull Wallace Arnold


These are the 1st shots of the new N scale, all fully approved so please don't worry about a delay with these. I sprayed some of these with primer so they will show up a litle better.
Also the 1st sample we have for the Weymann at N part of the delayed NSET003.
1:43 Scale
Here are some updated images of items that are scheduled for release.

The 1:43rd Austin Ruby had a small problem with the suitcase on the rear, the original CAD looked OK, but I overlooked the detail required. On the decorated samples, it was very apparent that it was not good enough. So what we had to make a modification, not only to the look, but also the componentry, as it was a both visual and structural problem. This is what I approved on the original CAD for the Ruby. The CAD looks sort of OK.
Changing this suitcase after the tools had been cut is not the easiest and didn't make me the most popular person. Another lesson in spending just a bit longer reviewing the CAD.
So this was the Ruby updated suitcase CAD.
These are the updated shots, I also show a picture of the sprue, with the recut components, so more cost for us, but it needed to be right. 
These are the new 1:43rd models that are added to the programme.
1:43 Oxford Automobile

43AMZ003

Aston Martin DB4GT Zagato Red

43ASS006

Austin Seven RN Saloon Light Grey

43EMP002

Rolls Royce Silver Cloud/Hooper Empress Two Tone Blue

43RSC002

Rolls Royce Silver Cloud I Black

43RSD002

Rolls Royce Silver Dawn  Two Tone Grey

43RUB002

Austin Ruby Saloon Dark Blue

43TX5001

TX5 Taxi Black

1:43 Oxford Commercials

43AK017

Austin Threeway Van Civil Service Stores

43FDE017

Ford 400E Van Lotus

1:43 Oxford Emergency

43LR3S002

Land Rover Series III SWB Hard Top AA
You will see the TX5 taxi as a new casting – this is a 2D of the original CAD for the car.
This then is our CAD interpretation of the original TX5 CAD.

72nd Scale
These are some of the latest pictures from the 1:72nd History of Flight range. The Dragon is releasing later this month.
These are the new releases in the 1:72 History "Blue Box" range.

1:72 History of Flight

72BE001

Twin Beech G-BKGM - Bristol Airways

72DR015

DH89 Dragon Rapide X7454 USAAF  - Wee Wullie

72DV005

DH104 Devon WB534 RAF Transport Command
As you will see this includes the Twin Beech. These are some images taken whilst we were scanning along with a Scan dump and a bit of our CAD.


72nd Scale Aviation some updated pictures from the 1:72 Aviation range.

These are the new codings that are added to the Aviation range.

1:72 Oxford Aviation

AC079

Mustang P51D Sweet Arlene - 2nd Lt Arthur  Reed Bowers

AC080

Arado AR196 D-IHQI Prototype 1938

AC084

Me163b Komet White 54 - 14JG 400 Niemcy 1945

AC085

Junkers Ju87 T6+DP 6 St.G2 Immelmann Libya 1941

AC086

Spitfire 1A N3277 Luftwaafe
76th Scale
Some updated picture in the 1:76 Automobile range.
These are the latest additions to the 76 scale Automobile Range
1:76 Oxford Automobile

76AH3005

Austin Healey 3000 Metallic Golden Beige

76AMDB9003

Aston Martin DB9 Coupe Cobalt Blue

76AMV003

Aston Martin Vanquish Coupe Quantum Silver

76ASS006

Austin Seven Saloon Light Grey

76CAV003

Vauxhall Cavalier China Blue

76CDS005

Citroen DS19 Monte Carlo Blue/Aubergine

76COR1008

Ford Cortina MkI Lombard Grey/Red

76COR3008

Ford Cortina MkIII Strato Silver

76CRE009

Vauxhall Cresta Venetian Red/Polar White

76CT006

Citroen 2CV Charleston Cormorant Grey/Midnight Grey

76ETYP010

Jaguar E Type Coupe Bluebird Blue (Donald Campbell)

76FB006

Vauxhall FB Victor Cactus Green

76FF006

Ford Fiesta Mk1 Terracotta

76HI003

Hillman Imp Firebrand Red

76IS001

BMW Isetta Signal Red

76LRD008

Land Rover Discovery 3 Rimini Red Metallic

76M3001

BMW M3 Coupe E92 Mineral White

76MGB008

MGB Roadster Mineral Blue

76MN008

Mini Surf Blue/Old English White

76SET07B

Triple Morris Minor

76TP005

Triumph 2500 Russet Brown

76TR4003

Triumph TR4 New White

76TR7001

Triumph TR7 Convertible Triton Green

76VW027

VW Bay Window Camper Savannah Beige/White

76VW028

VW Bay Window Bus/Surfboards Lime Green/White

76VWB008

VW Beetle Lotus White

76VWY006

Vauxhall Wyvern Metallichrome Green

76WO005

Wolseley 18/85 Black/Ivory

76ZEP010

Ford Zephyr Purbeck Grey
A lot of interest in the 1:76 Range Rover Classic and the P38 which are not far away
As a link to Oxford Rail, this may interest you the 1:76 Carflat in BR livery which releases later in the month (along with the Dean Goods). You can get more details of the Oxford Rail website in the coming days.
76 Construction Latest 1:76 Construction images.
The 3CX from the 1980's is added to the range.
1:76 Oxford Construction

76JCX001

JCB 3CX (1980s) JCB
We went back to our traditional way of making a handmade pattern for this 1:76 JCB 3CX. We did this as we couldn't find a surviving vehicle, so we have used diagrams, drawings etc.
76 Emergency
As explained on our last release, we are combining future releases of Fire, Police and Ambulance and Emergency vehicles into the Emergency range. New items added are:
1:76 Oxford Emergency

76BED007

Bedford J1 Ambulance Dundalk Fire Service

76LAN180003

Land Rover Series I 80" Open Top AA

76LAN2017

Land Rover Series II LWB Hard Top RAC Radio Patrol

76QLD006

Bedford QLD Wiltshire Fire Brigade
76 Gift
New sets added are as follows:
1:76 Oxford Gift

76SET14A

5 Piece Jaguar Collection

76SET17E

Land Rover 5 Piece Set

76SET35A

VW Bay Window Set Van/Bus/Camper

76SET51

3 Piece Rolls Royce Set

76SET52

5 Piece Volvo Set
I was sent a copy of a review of one our gift sets. It went along the lines of 'I am not sure why anyone would want to buy sets like this which include vehicles that have already been released in the past'. Not everyone understands the market we are in and the customers who buy our products. Also for Coca Cola, these are some updated images.
Also we add this Coca Cola 1:76 scale addition, some would argue that I missed it on the last release – I don't think so, I am far too organised for that…
1:76 Coca Cola

76S94004CC

Scania 94D 6 Wheel Curtainside Coca Cola
76 Haulage
These are updated images that we have.
These are new items added to the range.
1:76 Oxford Haulage

76ATKL004

Atkinson Cattle Truck J Haydon & Sons

76DT006

Diamond T Ballast Wynns

76DXF002

DAF XF Euro 6 Curtainside Wrefords

76DXF003

DAF XF William Armstrong Livestock Trailer

76LO001

Leyland Octopus Box Trailer Tesco
| | | | | | |
| --- | --- | --- | --- | --- | --- |
| | | | | | |
So at last a 1:76 scale cattle truck is added to the range – something we have been asked quite a few times over the last few years.
For those of you who prefer modern you will note the addition of 1:76 Houghton Parkhouse 'Professional' Livestock Transporter.
76 Military
Updated pictures of items already announced in the 1:76 Military Range:
New items added to the 1:76 Military range are here:
1:76 Oxford Military

76MWD007

Bedford MWD 2 Corps 1/7th Middlesex Reg France 1940

76SHP005

Sherpa Van RAF

76SM001

Sherman Tank MK III 10th Armoured Division 1942

76SM002

Sherman Tank MK III Royal Scots Greys Italy 1943

76TAC004

TACR2 RAF St.Mawgan
Those of you who follow Oxford Rail will be aware that we are tooling the Sherman as a companion for the Warwell, in the Oxford Rail range it comes as it arrived into the UK during World War II as new. In the Diecast range they are liveried up with authentic markings. So the Rail version has a large box on the back.
76 Omnibus
Some updated pictures of the 1:76 Omnibus range.
New additions to the 1:76 Omnibus Range are as below, we have a little catching up to do here as we have the IR6, Beadle Integral and Saro still to release. So, no new tooling announcements.
1:76 Oxford Omnibus

76BI003

Beadle Integral East Yorkshire

76IR6003

Irizar i6 The Kings Ferry
I mentioned on my last visit that we would be adding the 1:76 Living Wagon to the Showtime range and you can see here the latest picture. The ladder will be bagged separately as it can be posed as shown, or in the rear bracket. This Steam Roller - City of Truro - is added to the 76 Showtime range.
The latest Steam Roller – City of Truro
1:76 Oxford Showtime

76FSR005

Fowler Steam Roller No.18873 City of Truro
76 Commercials
Here are some updated pictures in the 1:76 Oxford Commercial range.
New additions to the 1:76 Commercial range are as follows.
1:76 Oxford Commercials

76ACC007

Pallet/Loads Reckitts Starch * 4

76ACC008

Pallet/Loads Pratts Motor Oil * 4

76J4001

Morris J4 Van Royal Mail

76MM059

Morris 1000 Van British Rail

76SHP006

Sherpa Minibus Wynns
Again, as a crossover to Oxford Rail, the Road Rail Discoveries are shown here. The Railtrack colour is slghtly off and needs updating
87 Cars
The latest images from the 1:87 Oxford Automobile range.
New images for items added to 1:87 Oxford Automobile range.
1:87 Oxford Automobile

87BC55003

Buick Century 1955 California Highway Patrol

87BS36003

Buick Special Convertible Coupe 1936 Cardinal Maroon

87CN57003

Chevrolet Nomad 1957 Surf Green/India Ivory

87CP65003

Chevrolet Stepside Pick Up 1965 Maroon Metallic
Oxford Structures
Just a note now on Oxford Structures The new and initially modest range of buildings offers the modeller a selection of finely detailed resin moulded buildings that are painted to a truly exacting standard. This new Oxford Structures range of buildings has been separated into two distinct groups. The first could be simply described as domestic buildings and grouped under the Oxford Structures heading of Town and Country. The initial range will consist of two shops, a 1930's style bungalow, plus a thatched cottage. Also included is a beautifully styled country church and of course the obligatory Pub! Closer to the railway tracks we have sought inspiration from the Great Western Railway with superb model example of a characteristic Station as well as suitable platform sections. There is a Signal Box, a truly impressive Water Tower and a Goods Shed. And what collection of railway buildings would not be without a single track Engine Shed. All these models carry the distinctive design DNA of the GWR and each detailed model has been carefully crafted to capture the real essence of 'Gods Wonderful Railway'. You can get more information in the coming days from the Oxford Rail website.
As an example this is the OS76R005 Water Tower/Crane GWR – Oxford Structures
This is Hazel Cottage OS76T006 - Oxford Structures