SEARCH FASTER
Filter Products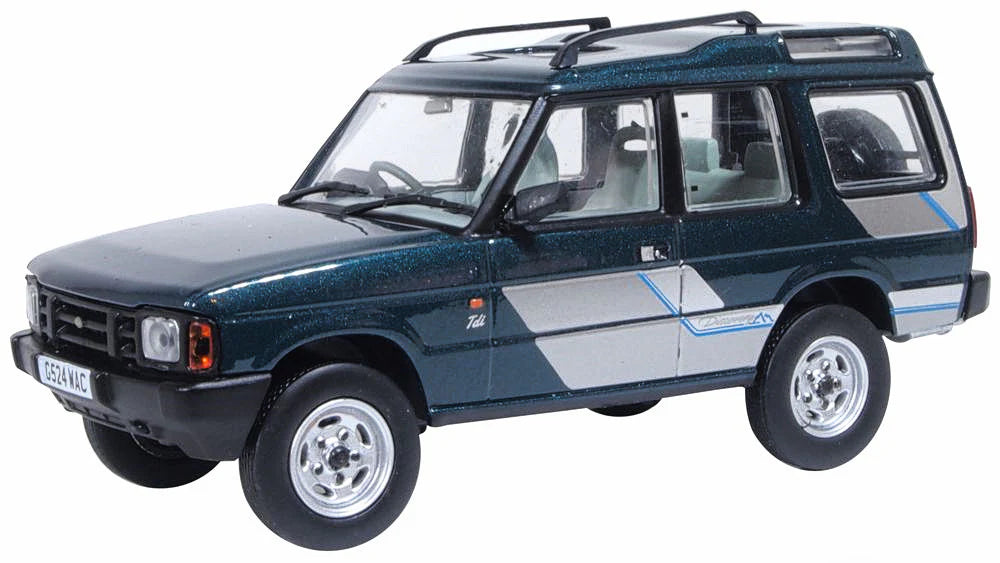 Land Rover diecast model cars
Welcome to Oxford Diecast, your premier source for exquisitely designed and intricately detailed Land Rover diecast models. Our company specialises in creating and distributing the highest quality Land Rover diecast models, collector's items and miniatures that capture the essence and historical accuracy of the vehicles they replicate.
Oxford Die Cast: Showcasing a Spectacular Range of Land Rover Diecast Models

Over the years, we have earned a reputation for our meticulous attention to detail, unmatched quality, and the broad range of our offerings. From vintage Land Rover models that encapsulate the rugged charm of the past to modern versions showcasing technological advancements, our collection encompasses the brand's impressive lineage and vast history.

Oxford Die Cast models serve as perfect collectables for car enthusiasts, hobbyists, and lovers of the Land Rover brand, adding tangible value to any collection. Each model is crafted precisely, and our intricate designs highlight the distinctive features that make each Land Rover model unique. Our group brings the celebrated British motoring history to life, allowing collectors and fans alike to hold a piece of this history in their hands.

Join us on a fascinating journey through the history of one of the world's most iconic vehicle brands. Discover, explore, and admire our comprehensive collection of Land Rover diecast models, all curated with a level of detail that will impress you.


The Intriguing History of Land Rover Cars
The Land Rover brand, born in the United Kingdom, has a rich and storied history that dates back to the post-World War II era. Maurice Wilks, the chief designer at the Rover Company, was inspired by the American Jeep and decided to create a practical vehicle suited for the rugged landscapes of the British countryside. Thus 1948, the first-ever Land Rover, known as the Series I, was unveiled.
Over the years, Land Rover has become synonymous with luxury, ruggedness, and off-road capability. Their range has expanded from the original utilitarian models to include vehicles that blend functionality with high-end luxuries, such as the Range Rover, launched in 1970.
Their ethos of innovation and evolution is visible in every model they've produced, from the Defender, an icon of strength and durability, to the Discovery, embodying the spirit of adventure, and the Velar, a symbol of futuristic design and luxury. The brand's success story is characterised by overcoming adversity, forging ahead in innovation, and maintaining a steadfast commitment to quality and craftsmanship.
The Evolution of Land Rover Model Cars
Land Rover's robust history and diverse range of vehicles make it a favourite among model car manufacturers and collectors. The first Land Rover die-cast models appeared shortly after the release of their real-life counterparts, enabling fans to own a piece of this automotive history.
Over the decades, model makers have endeavoured to replicate every detail of the Land Rover vehicles, creating miniatures that encapsulate the brand's essence. Oxford Die Cast entered this space with a dedication to detail and authenticity, striving to make the most accurate and diverse range of Land Rover model cars.
Our Land Rover die-cast model collection spans the brand's entire history. From the rugged charm of the early Series I models, through the enduring strength of the Defender, and the adventurous spirit of the Discovery, to the sleek elegance of the Velar, every significant Land Rover vehicle has a place in our range.
Each model car reflects the brand's evolution, embodying the various design changes, technological advancements, and unique characteristics that have defined Land Rover over the years. Collectors gain a valuable item to display and a miniature testament to Land Rover's extraordinary journey from post-war utility vehicles to today's luxurious off-roaders.
Showcasing the Oxford Diecast Land Rover Series 2 LWB Hard Top British Rail

Presenting one of the standout models from our collection, the Oxford Diecast Land Rover Series 2 LWB Hard Top British Rail. This model encapsulates a slice of British automotive and railway history, embodying the utility and style of the 1950s Land Rovers and the distinctive colour scheme of the British Rail network during that period.
The Series II Land Rover is a significant model in the brand's history. Introduced in 1958 and produced until 1961, it marked a considerable design shift from its predecessor, the Series I. The most identifiable change was incorporating rounded side panels, a feature introduced to accommodate the vehicle's wider track. The Series II was offered in short and long wheelbases, with various body configurations, from fixed roofs and canvas roofs to open tops and station wagons.
Our diecast model pays homage to this versatile workhorse by replicating a long wheelbase (LWB) version with a fixed hardtop roof, mirroring the vehicle's ability to tackle rugged terrains while providing substantial interior space.
This model's unique aspect is its 'Blood and Custard' colour scheme. This nickname was derived from the slang used for the crimson lake and cream colours of British Rail carriages in the 1950s. Such colours were not just limited to the rail carriages but were also applied to vehicles used across the network. Our model captures this distinctive colour combination, paying tribute to an iconic period in British transportation history.
Our Oxford Diecast Land Rover Series 2 LWB Hard Top British Rail is a 1:120 scale TT version, which has been crafted with meticulous attention to detail. Every element of this model reflects our commitment to authenticity and quality, from the distinctively rounded side panels to the vivid 'Blood and Custard colours.
With this model, you're not just adding a beautifully crafted Land Rover die cast to your collection. Still, you're also embracing a piece of Britain's rich transportation history, bridging the worlds of automotive and railway heritage.
Land Rover Die Cast Model Care and Maintenance

Collecting diecast models is an exciting hobby, but it also comes with a responsibility to maintain and care for your collection. Proper care not only helps preserve the pristine condition and inherent value of your models but also enhances the enjoyment you get from showcasing your Land Rover die cast pieces. In this section, we'll provide valuable tips and advice on keeping your models in top condition.
Cleaning and Dusting Your Die Cast Models
Regular cleaning is essential to maintain the aesthetic appeal of your die-cast models. Use a soft, lint-free cloth or a gentle brush to dust your models. To avoid damaging smaller parts, always wipe the direction the parts are attached. Consider using canned air or a gentle vacuum to remove dust from hard-to-reach places for a deeper clean.
Optimal Display and Storage for Your Models
Display your models in a cool, dry place from direct sunlight to prevent fading or discolouration. Glass display cases can offer the best protection against dust and accidental damage. Store your models in their original packaging, if possible, when not on display, as this provides the best protection and retains the model's value.
Preventing and Addressing Common Damages
Ensure your models are placed in a secure area that won't be accidentally knocked over. If damage does occur, specialist glues can be used for minor repairs. Always handle your models with clean hands to prevent oils or dirt from causing damage.
Tips for Handling and Moving Your Models
When moving your models, always pick them up by the body, never by smaller, delicate parts. If you must transport your collection, consider using cushioned, compartmentalised storage boxes to protect your models.
Maintaining the Value of Your Die Cast Model Collection
Preserving the original boxes, documents, and accessories that come with your models can significantly enhance their value. Regularly rotate models on display to limit potential sun damage and give each piece time in the spotlight.
Exploring the World of Land Rover: Events, Exhibits, and Community
At Oxford Die Cast, we believe in celebrating the grandeur of Land Rover beyond our exquisite models. The world of Land Rover extends far and wide, and we want you to be a part of it! Let's delve into the vibrant communities, exciting events, and the latest news that makes Land Rover more than just a brand - it's a lifestyle.
Upcoming Land Rover Events
Stay connected with like-minded enthusiasts by attending various car shows, model exhibits, and conventions where Land Rover models steal the show. We regularly update our events calendar to inform you about upcoming events. At these gatherings, take advantage of the chance to witness the awe-inspiring beauty of Land Rover vehicles, both natural and miniature.
Local and Global Land Rover Communities
Joining a Land Rover club or online community can enrich your experience as a collector. Networking with fellow enthusiasts, sharing stories, gaining exclusive content, and getting access to special events are just some benefits you can enjoy. We encourage you to explore these avenues to deepen your connection with the Land Rover family.
Land Rover News and Updates
Stay abreast of the latest news from Land Rover. Be the first to know about new vehicle releases, brand initiatives, and partnerships. As part of the Land Rover family, we ensure you're always in the loop about exciting developments in the world of Land Rover.
As we explore this thrilling world together, remember that every journey starts with a single step—or in our case, a single model. Start your collection today with our highly detailed and historically accurate Land Rover die cast models. From the vintage charm of the Series I to the modern elegance of the Velar, a model is waiting to kickstart your journey into the world of Land Rover.
Don't hesitate to contact us to make a purchase or for any queries. At Oxford Die Cast, we're more than just a store. We're your gateway into the fascinating world of Land Rover, and we can't wait to share this journey with you. Explore. Collect. Cherish.
Read More
Read Less
Liquid error (snippets/quick-shop line 3): include usage is not allowed in this context