SEARCH FASTER
Filter Products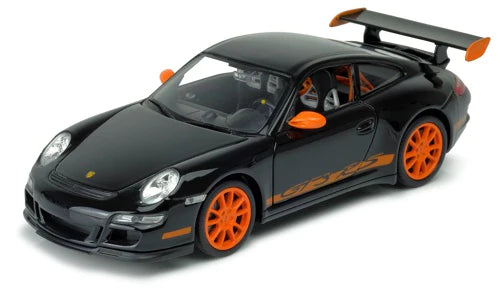 Model Sports Cars
If your type of motor is a sports car, our collection of model sports cars is perfect for you. Our collection contains Aston Martin, Porsche, Bugatti, Lotus, Lamborghini, BMW, Audi, Jaguar, Mercedes and more. We have scaled model sports cars in different sizes depending on the model car. Additionally, our model sports cars stock changes regularly – so please revisit our website to see what's new.
Model Sports Car Collectables
Diecast models are collectible because they are miniature versions of real-life cars that you can hold in your hand. You can take them anywhere, display them on your shelves or desk, and admire their beauty at any time. There are a lot of reasons to collect diecast models, but the best one is that they're just so fun! You can't help but smile when you see a small replica of your favourite car. You can't help but feel a sense of accomplishment when your collection is complete, and it's all lined up on your shelf in all its glory. We have diecast models of all kinds of cars, from the most popular classic cars from history to modern-day sports cars that can go from 0-60 in under 2 seconds!
Aston Martin Model Sports Car
For those who don't know - Aston Martin is a British luxury sports car manufacturer, and for many people, the idea of owning one of their cars is just a dream. But here's the thing: you don't have to be a billionaire to own an Aston Martin, you just have to be willing to spend some money on one. That's where we come in! We're offering up Aston Martin diecast models that are as close to the real thing as you can get without taking out a car loan.
Porsche Model Sports Cars
Porsche diecast model sports cars are a great gift for Porsche sports car fans. Porsche is one of the most famous German automobile manufacturers, and its iconic sports car has been loved by many people over the years. The Porsche diecast model sports cars look exactly like the real thing, down to every detail. They are made of high-quality materials and have authentic features that make them perfect for both collectors and casual hobbyists alike. Diecast model sports cars are a great gift for any true car enthusiast. Whether you're looking for a diecast model of your favourite Porsche car or you just want to add to your collection, we've got you covered.
Bugatti Model Sports Car
Do you love sports cars? Are you looking for a gift for someone who does? The Bugatti brand is one of the most prestigious in the world. Their sports cars are known for their sleek design and amazing speed, and they're driven by some of the most famous people in the world. If you want to give someone a gift that will last them a lifetime and show them how much you care, then this is a great choice for you.
Lamborghini Model Sports Cars
Lamborghini sports cars are the perfect gift for any car enthusiast. These beautiful Italian vehicles have been making drivers smile since 1963, and there's no sign of that stopping any time soon. The Lamborghini diecast model sports car is a replica of one of their most popular cars: the Lamborghini Aventador. It is made from high-quality materials and has incredible details to make it look just like the real thing! Our diecast model sports cars are made with the utmost care and precision, and they come in a wide range of makes and models. We have everything from old classics to modern-day favourites, so no matter what kind of car your giftee's favourite is, you'll be able to find it here!
Lotus Model Sports Cars
Lotus fans, you're in luck! We've got the perfect gift for you - a gorgeous Lotus diecast model sports car. Just imagine it's your birthday, and you wake up to a house full of your family. You open up your presents, and there it is - your brand-new Lotus diecast model sports car! Your family looks at each other and smiles knowingly; they know how much you love Lotus cars. You lift the model sports car out of its box and hold it up so everyone can see. The whole family cheers and laughs as they admire it from all angles. Lotus is a brand of sports cars that are known for their lightweight, aerodynamic design and incredible performance. The Lotus diecast model sports car makes a great gift for any Lotus fan, as it's small enough to display on a desk, shelf, or mantelpiece, but large enough to be easily distinguishable from other models.
Diecast Model Sports Car Gift Ideas
Are you looking for a gift idea that will make a diehard sports car fan happy? If so, then you've come to the right place. Here at Oxford Diecast we have a wide variety of diecast model sports cars that are sure to make any sports car enthusiast smile. Diecast model cars are popular gifts because they're not only fun and easy to collect, but also because they allow people to get excited about their favourite cars without having to spend big bucks on owning them. Plus, these model cars are often very detailed replicas of real-life vehicles - so much so that many collectors like to display them as decorations in their homes or offices!
Read More
Read Less
Liquid error (snippets/quick-shop line 3): include usage is not allowed in this context