SEARCH FASTER
Filter Products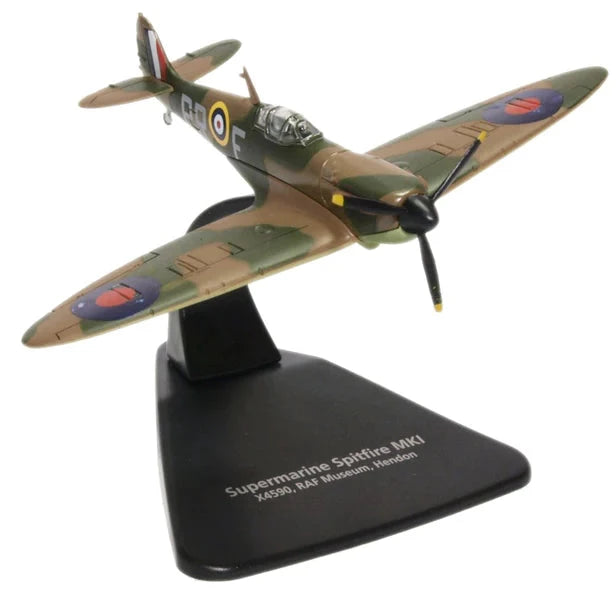 Pre-built Model Aircraft
If you're looking for a pre-built model aircraft, we've got you covered. We have a wide range of pre-built model aircraft that are sure to delight any aircraft enthusiast. Our pre-built model aircraft is great for collectors and hobbyists who want to add some flair to their collection. And if you're looking for scale models, we've got them too! We know that there's nothing like the feeling of holding a replica of your favourite aircraft in your hands and we're here to help you find it. Enjoy browsing through our pre-built model aircraft below.
What do some of our Pre-built Model Aircraft represent?
Let us give you a little bit of history behind some of our pre-built model aircraft. From knowing a little bit about each aircraft you will understand what our models are representing. You can read more about military aircraft on Wikipedia, click here for the basics. To view other military diecast products click here.
Pre-built Model Aircraft - Hawker Hurricane History
The Hawker Hurricane is a British fighter aircraft. It was one of the most important British aircraft of World War II, particularly during the Battle of Britain in 1940. The Hawker Hurricane was designed by Sydney Camm, who also designed the Typhoon and Tempest. The Hurricane first flew on November 6th 1935 and entered service in 1937. It was used as a fighter by the Royal Air Force (RAF) and many other allied air forces during World War II. The Hawker Hurricane is powered by a Rolls Royce Merlin engine which gives it a top speed of 362mph (582km/h). It can carry either eight machine guns or four cannons and two machine guns. The Hurricane has a range of 600 miles (965km). Relive the glory of the Hawker Hurricane with our Pre-built Model Aircraft.
Pre-built Model Aircraft – Spitfire History
Our pre-built model aircraft of the Supermarine Spitfire represents one of the most iconic aircraft in history. The original fighter jet was built by the British during World War II and used by the Royal Air Force (RAF) and other Allied Powers. The Spitfire first flew in 1936, and it was first used in battle in 1940. It was designed as a short-range interceptor aircraft to defend Britain from enemy fighters during World War II. The Spitfire went on to become one of the most successful fighter planes ever built, with over 20,000 planes manufactured for use during World War II.
Pre-built Model Aircraft - Mustang P51 History
The Mustang P-51 is a classic American fighter plane, and one of the most famous planes of all time. The P-51 was developed in 1940 as an aircraft that could take off from short airfields and land at higher speeds than any other plane at the time—all while packing a powerful punch. But this wasn't just any plane: it was built with an eye toward sleekness, speed, and manoeuvrability. The Mustang was made of lightweight materials like aluminium and steel but also had thick wooden wings for strength. It was powered by a V-12 engine that could reach speeds up to 400 miles per hour. And it had a top range of 1,600 miles! Although they were initially used as bomber escorts in World War II, Mustangs became famous for their role in dogfights. We like to celebrate the history of this fine aircraft with our pre-built model aircraft.
Pre-built Model Aircraft - Thunderbolt P-47 History
Our pre-built model aircraft of the P-47 Thunderbolt represents the World War II fighter aircraft which was built by the United States. It was one of the most important fighters in the war and was one of the first to have a potent offensive capability. The P-47 had a long and interesting history. The first models were developed in 1938, and production began in 1940. In total, over 15,000 Thunderbolts were made throughout the war. They were used extensively in Europe, Africa, and Asia by Allied forces. The P-47 was also used by other countries after WWII ended. It has been featured in many movies and TV shows since then as well as having been used by NASA for research purposes.
Pre-built Model Aircraft - Mitsubishi Zero History
The Mitsubishi Zero was a Japanese fighter aircraft used during World War II. It was the primary Imperial Japanese Navy fighter during the war and was used in many battles. The Zero was designed by Jiro Horikoshi, who took inspiration from a number of foreign aircraft, including the British Supermarine Spitfire and American Vought Corsair. The prototype first flew in 1939 and entered service in 1940. The Zero was known for being one of the fastest fighters of its time, with a top speed of 335 mph (539 km/h). It also had impressive manoeuvrability and range performance but was heavily armed only with machine guns. It was not until 1944 that it received 20mm cannons as standard equipment. It also lacked armour protection for its pilot or fuel tank. Hopefully, you will agree that our pre-built model aircraft, allows this fine aircraft to be remembered by collectors and hobbyists.
Read More
Read Less
Liquid error (snippets/quick-shop line 3): include usage is not allowed in this context