SEARCH FASTER
Filter Products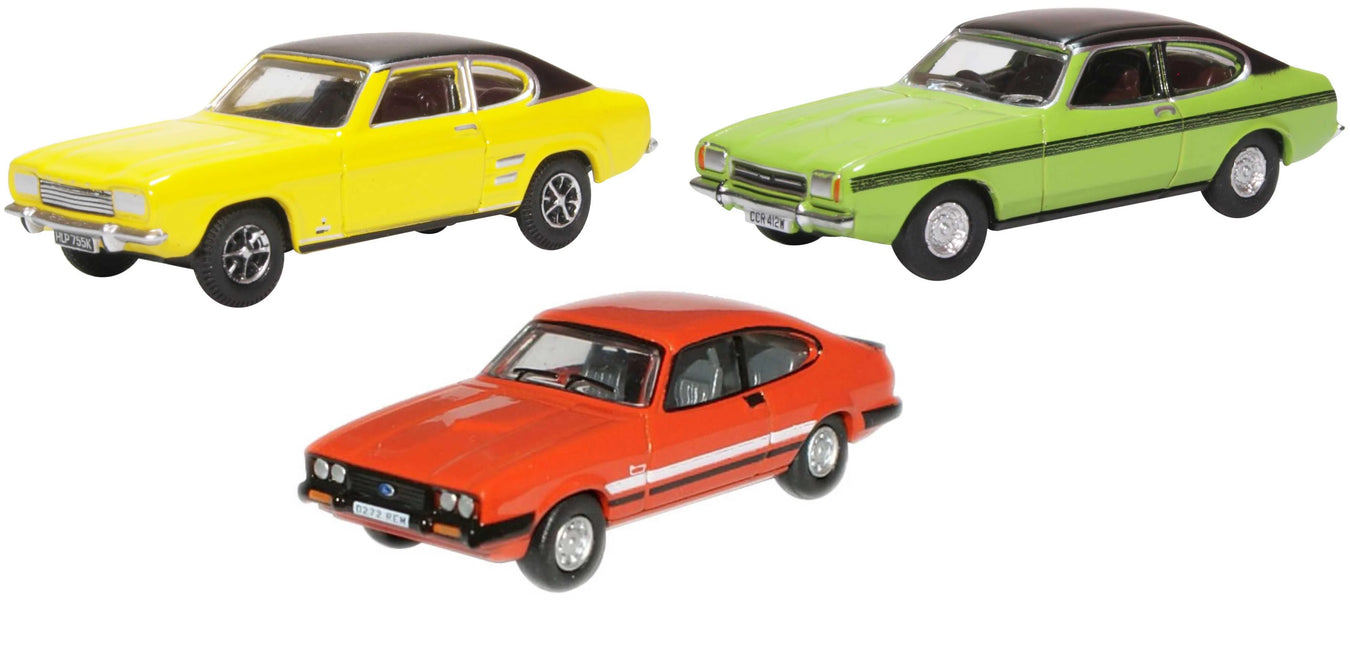 Ford Capri Model Cars
If you're into retro cars from the 70s and 80s, our collection of Ford Capri model cars is perfect for you. Our collection contains the MK1, MK2 & MK3 in a range of colours such as blue, gold, silver, lime green and yellow. It is also worth knowing that our scaled model Ford Capri's Are available in different sizes (1:24, 1:43, and 1:76) depending on the model car. Simply go to the search faster menu and tick the scale you are looking for. Enjoy browsing our Ford Capri model cars today.
Why buy one of our Ford Capri model cars
At Oxford Diecast we are huge fans of the Ford Capri. It's not like there are many cars out there that are better than this one! The Capri is one of Ford's most iconic models, and it's been in production since 1970. It's been through a few iterations over the years but has always been known for its performance and reliability. This car was made for people who want something that can handle a lot of different situations and it's got a great look too!
Come back and revisit our Ford Capri model cars!
Bear in mind that our Ford Capri model cars stock changes regularly. Therefore, we recommend that you set a reminder to come back soon and see what's new! If you happen to look at the models we have and realise that you have these already, we also have lots of other model cars available! You can use our menu system above to search for your ideal model car by manufacturer or era.
Are you wondering why the Ford Capri model car is so popular?
Why the Ford Capri model car is popular - The history
The Ford Capri was a British car built by the Ford Motor Company in Europe between 1969 and 1986. It was named after the area of Capri, Italy. The Capri was designed to fill the gap between the popular Ford Cortina and the expensive Ford Zephyr ranges. The car was launched in October 1968 as a two-door saloon and coupé, with a three-door estate model added in 1971 and a convertible version in 1973. The Capri Mk I was available as a 1600 cc or 2200 cc engine option, but from 1972 only the 2200 cc engine was available. In 1975, the Capri Mk II replaced the original model. This new car featured revised styling, an upgraded interior, and improved equipment levels. The Capri Mk II was produced for ten years before being replaced by the front-wheel drive Ford Sierra in 1986.
Why the Ford Capri model car is popular - The technical aspects of the Ford Capri
The Ford Capri was a popular model of car produced by the Ford Motor Company in the 1970s. The car was known for its sporty appearance and high performance, which made it especially popular among younger drivers. The Capri had many different engines over its lifetime. In its first few years of production, it came with a 2.0-litre inline-four engine that produced 112 horsepower at 5200 rpm. This engine was replaced by a 2.3-litre inline-four engine that produced 132 horsepower at 5800 rpm in 1971. Later versions had either a 2.8 litre inline-six or 2.9 litre V6 engine that produced 135 horsepower at 5600 rpm or 130 horsepower at 5600 rpm respectively (depending on whether they were fuel injected). The Capri also had an excellent suspension system which allowed it to corner like no other car of its time; it even won several awards for its handling capabilities!
Where the Ford Capri gained popularity
The Ford Capri was a mid-sized car that was produced by the Ford Motor Company between 1969 and 1986. It was the successor to the popular Cortina model and was produced in two-door and four-door body styles. The Capri was marketed as a sports car, but it did not sell well in the United States, where it competed with other sports cars such as the Chevrolet Corvette and Dodge Charger. However, it did sell well in Europe and Australia, where it became one of the most popular cars of its time.
Treat a friend to a Ford Capri model car
We all have that friend who always talks about his cars from the 70s and 80s, right? Wouldn't it be thoughtful to buy that person a Ford Capri model car? At Oxford Diecast we have a great selection of ford capri diecast models which will be perfect for your friend! This is a thoughtful gift for someone who loves the 70s and 80s. Maybe they would love to own a classic car but can't afford one! So, if you know a retro car enthusiast, welcome to Oxford Diecast! We have plenty of models which you can collect for fun or as a hobby.
A Ford Capri model car makes a great present!
Owning a model car allows people to reminisce either about their most desired cars or the one they had from way back when or still own now! What is great about having the diecast version is that you don't have empty your bank account to own and maintain the real thing! There's plenty to enjoy about having a replica on a shelf or in a prestige cabinet! So fill up your display cabinet or shelf today with our great diecast models!
Aside from Ford Capri model cars, are you wondering what else you can buy?
If a diecast Ford Capri model is not for you, but you do like the idea of owning a model sports car, click here to get some inspiration. Otherwise, you can view our general Ford models page and search within the brand to find the best model vehicle for you. Should you wish to buy model car sets, visit our diecast car sets page. Or if you love a certain era for vehicles, use our menu above to search for the era you love the most. As you're on the Ford Capri model car page it is likely you loved the 70s and 80s era. So, click here for the 70s and click here for the 80s and enjoy searching by era! And please keep coming back to see if we have new stock on our website! Don't hesitate to contact us today if you have any questions.
Read More
Read Less
Liquid error (snippets/quick-shop line 3): include usage is not allowed in this context