SEARCH FASTER
Filter Products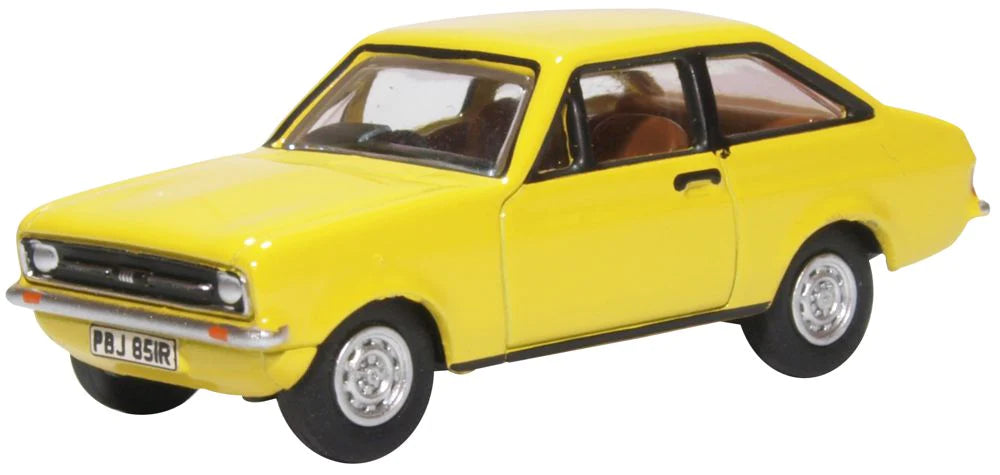 Ford Escort Model Cars
If you're old enough to remember the Ford Escort MK1 & MK2, you will love our Ford Escort model cars! In our collection, you will find both the MKI & MKII as well as the XR3i in different colours! Not only that we have these models in different sizes too. If you remember this iconic vehicle from as early as the late 60s, you will be even more pleased to know we have this model in retro colours like modena green and ermine white! Have a good browse through our Ford Escort model cars, it will bring a few memories back if anything!
An introduction to the Ford Escort & our Ford Escort model cars
The Ford Escort was a great car for people who wanted to be able to drive fast, but also want the peace of mind that comes from driving a safe, reliable vehicle. The Ford Escort has been around for a long time and proved itself as one of the most dependable cars on the road. You never had to worry about the Ford Escort breaking down or leaving you stranded, it gave owners that piece of mind! Below we talk about the history of the Ford Escort, which gives you an appreciation of this vehicle and why our Ford Escort model cars are a popular choice among collectors.
About the Ford Escort
The Ford Escort is a truly iconic car. It's been around since 1968, and they exist today as a classic car! But how did we get to where we are today? What was the history of the ford escort? Well, in the 1960s, Ford had been making some pretty good cars—but they hadn't really done anything new. They were just doing what they'd always done: making reliable cars that were affordable for everyone. That all changed when they started working on an affordable sports car. They built a prototype in 1963 and tested it out on a rally course in Germany—and it was good! But there were still some issues with the design. So, Ford went back to the drawing board, and in 1964 came up with a new design that was ready for production.
How did the Ford Escort rise through the ranks in popularity?
The first generation of the Ford Escort (1968-1970) was based on the chassis of the second-generation European Cortina. The car's launch also marked a first for Ford: rather than evolving its model over several years, a completely new model was introduced at each stage of its production cycle. The Escort did not sell well when it was first introduced because it competed directly with other British makes such as Mini and Austin Maxi. However, over time it became an iconic vehicle thanks largely to its sporty styling and affordable performance options like turbocharged engines or four-wheel drive systems that could be added later on through dealer-installed kits (which could also include larger wheels).
More about the Ford Escort…
The Escort was one of the most popular cars on the road, with over nine million sold. It had three different engines available: a 1.3-litre inline four-cylinder engine, a 1.6-litre inline four-cylinder engine, and a 2.0-litre inline four-cylinder engine. The 1.6-litre engine produced 70 horsepower at 5500 rpm while the 2.0-litre engine produced 90 horsepower at 6000 rpm. This car was popular because it was inexpensive, reliable and easy to maintain. It also had good fuel economy for its size and low emissions levels which made it popular among consumers looking for an environmentally friendly vehicle at an affordable price point.
So how about a Ford Escort model car?
If you love your classic cars or know someone who does, it's now time to consider the Ford Escort as a classic car! It's always great to reminisce about older vehicles that we had when we are younger. Are you starting to notice that the Escort seems to crop up more and more in some of these conversations? Time goes by quickly doesn't it and yes, the Escort is now a classic! Get your Ford Escort model car today and add it to your collection!
Know someone who would appreciate a Ford Escort model car?
Have you gone through this collection and thought of someone in particular? Maybe an old school friend or family member? Well, you should mention our Ford Escort model car collection! Or even better, surprise them with one on the next big occasion. As you can see we have a whole range of different models, so it is possible that we even have a model version of one that you had in mind.
Our Ford Escort model cars are great, but how about other Fords?
If like us, you love to see Ford Escort model cars alongside other Ford models, you should have a look at our Ford Capri page! This collection has all different retro models that are great to collect. Alternatively, you can go to our main brand page and find all Ford models! Ford Motor Company, is iconic across different areas of the world due to its long history that dates back to 1903 (with Henry Ford). For many years Ford was best known for making the Model T, which was first produced in 1908. But since those days Ford Motor Company has become a global powerhouse in the car industry, producing cars including the iconic Mustang and F-150 truck. And even today, Ford continues to innovate and improve upon its designs and technology. They have released hundreds of different models over the years. From trucks to SUVs to sedans and they continue to remain a great brand loved by many.
Read More
Read Less
Liquid error (snippets/quick-shop line 3): include usage is not allowed in this context